After Tyson Fury retired from boxing, many fans speculated that he would return to the ring. That turned out to be true as the WBO Heavyweight champion accepted an offer to face fellow heavyweight Derek Chisora.
Fury had previously called out Chisora ​​on social media for the past few weeks and the 38-year-old boxer accepted Fury's challenge. Chisora ​​took to Twitter and fired back at Fury asking him to ask his promoters to make it official.
ADVERTISING
The article continues below this ad
"Tyson stop talking shit buddy, phone mom and dad. Mom is Frank Warren, dad fucks Bob Arum, tell 'em you wanna date me, okay, and send me the paperwork b***h," Chisora ​​said.
Following this, The Gypsy King accepted Chirsoa's offer and made the official announcement of his comeback fight.
Fury announces his return to boxing
Fury and his trainer released a video and officially announced that he had agreed to fight Chisora ​​in a record breaking event.
In the video, Fury explained how he thinks he would be the first heavyweight champion to have two trilogy fights under his belt. "I decided to come back to boxing because I can be the first heavyweight champion in history to have two trilogies. One with Deontay Wilder and a second with Derek Chisora. I always said I would fight Derek Chisora ​​at the end of my career and here we are.l," Fury concluded.
DIVE DEEPER
He then revealed why he chose former Commonwealth champion Isac Lowe as his coach. This heavyweight clash between compatriots is sure to be exciting as we see The Gypsy King return to action.
Tyson Fury vs. Derek Chisora
ADVERTISING
The article continues below this ad
As Fury stated, this won't be the first time the two heavyweights have faced off in the ring. The pair have faced each other twice before, with Fury picking up victory in both bouts. The first fight was in 2011, with Fury winning via UD, the second fight didn't go the distance as Fury knocked out Chsiroa in the 10th round.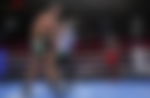 On paper, this looks like an interesting matchup as both contestants know each other's style very well. However, The Gypsy King will be the favorite to enter this fight and cement his legacy as one of the greatest heavyweight boxers of all time.
ADVERTISING
The article continues below this ad
Who do you think will emerge victorious from this long-awaited trilogy? Will it be Fury or Chisora? Let us know in the comments below.
Watch this story: Top 5 fights boxing fans would pay anything to watch…